DA NANG-HOI AN 4 DAYS 3 NIGHTS ITINERARY – ONLY USD135
If you are bearing in your mind a travel plan to Da Nang on a reasonable budget while still want to enjoy all the best moments with your friends out of "good food, good sleep, and wonderful photos", Da Nang-Hoi An 4 days 3 nights itinerary is specially made for you with only USD135/person! This coming summer, don't hesitate to set up a team of close friends and make a trip to Da Nang-Hoi An! 
Cheap air tickets to Da Nang 
A perfect Da Nang-Hoi An 4 days 3 nights itinerary has to be planned well with the suitable type of transportation. The best choice to travel to Da Nang is "hunting for cheap flight tickets" more than one month in advance. The two airline corporations that offer regular shocking discount programs are Jetstar and Vietjet Air. You had better hunt for round- trip flight tickets as early as possible because the earlier you book for your flight, the cheaper the tickets are.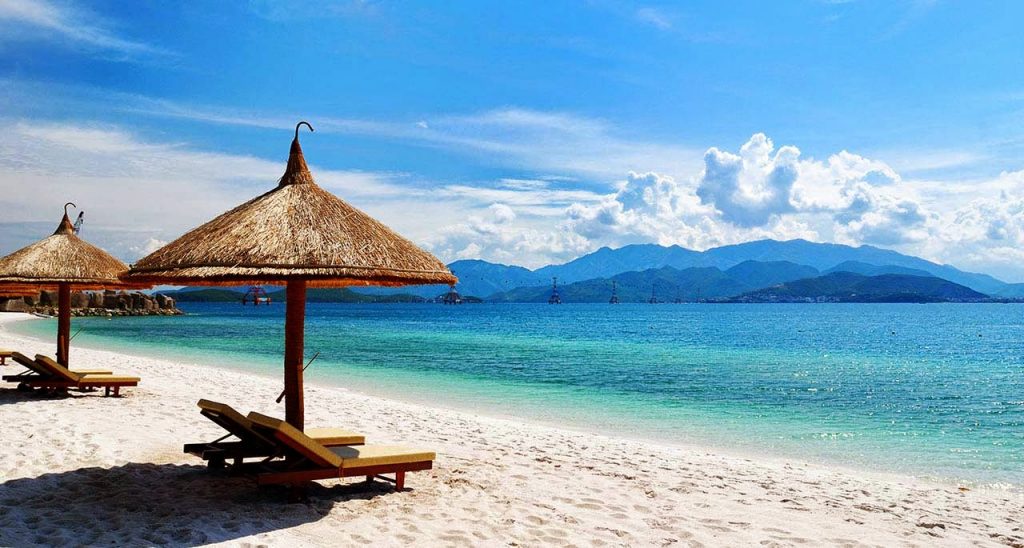 If you need a private transfer from Da nang airport to your hotel, price 12 usd/ 4 seat car. Book with Danangcooking.com

Read Da Nang Cheap Hotels Near Han River and Cheap Hotels Near Beach
What to eat, what to see in Da Nang and Hoi An, please go to the end of this article.
Detail Da Nang- Hoi An 4 days 3 nights itinerary with only USD135/person
Day 1- Arrive Da Nang, explore city 
Motorbike rental:
After arriving at Da Nang International Terminal, you can get your rental motorbike from the company staff (don't forget to contact the motorbike rental company in advance through email or any other channels offered before you start your trip or you can buy a Vietnamese SIM card at the airport for easier domestic contact).
Eat Bun Mam Ba Van: 
On the way to your hotel from the airport, a cannot-missed eatery is a very local restaurant named "Madam Van" which offers rice noodles served with special fish sauce and crispy grilled pork.
Location

: Alley K23/14 Tran Ke Xuong Street.

Open time: 7am-10pm

Price: 25,000 VND/bowl of all kinds of rice noodles with different ingredients such as boiled pork, Vietnamese sausage, and grilled pork.

Grilled pork: 4,000 VND/stick

Beverages: sugarcane juice: 7,000 VND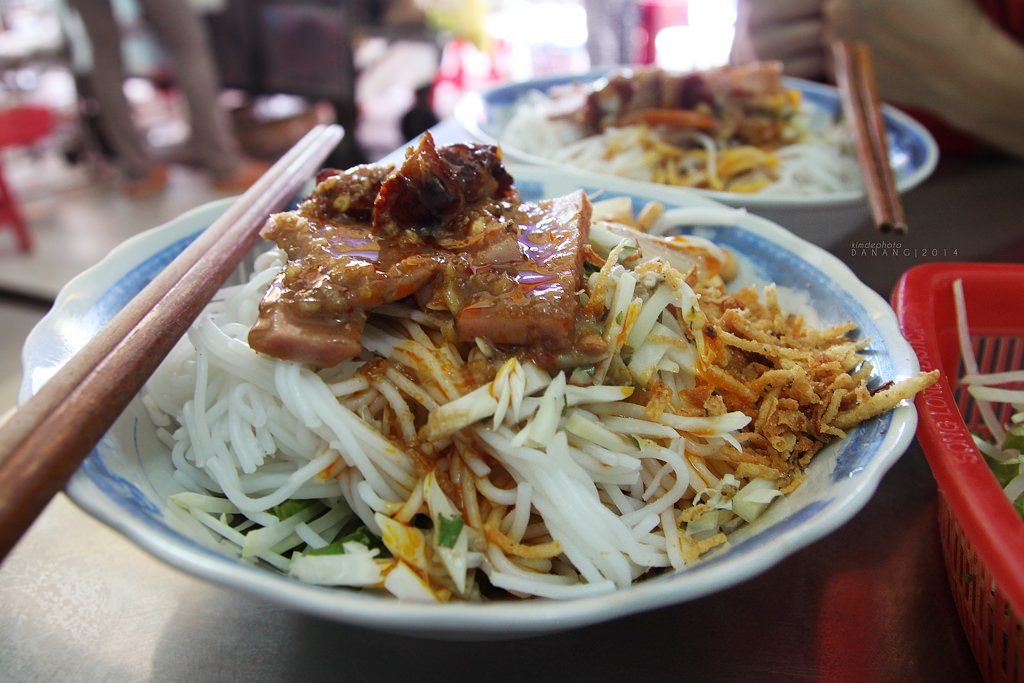 Check-in Memory Hostel:
After filling up your stomachs with the good local cuisine, time to check-in Memory Hostel. This hostel locates close to the end of Dragon Bridge where it is very lively with local activities and there are a variety of eateries around. It offers stunning view looking out to the river and the famous Dragon Bridge. The staffs are super nice and friendly. Besides, a quad room costs 600,000 VND/night.
Explore Da Nang city
Taking a rest in the hostel, then you can make a short "discovery trip" to East Sea Park and get ready for taking beautiful photos with flocks of cute doves flying and landing on the pavement near the beach under afternoon sunshine.
Location: At the end of Pham Van Dong Street (Go straight across Han Bridge till you face the sea)
After photo time, it's when you come back to your hotel for washing and get dressed for eating out at night. When sunlight gradually disappears, all buildings of the city are lit colorfully and hundreds of eateries open their business for vivid nightlife. Now is the perfect time for a dish of pancake and BBQ pork (nem lui) made by a famous local restaurant named "Madam Duong". Here serves good specialty food at reasonable price. You will pay for your meal depending on how much you eat. 4 people may have to pay about vnd 200,000 for a big dinner of pancakes and "nem lui".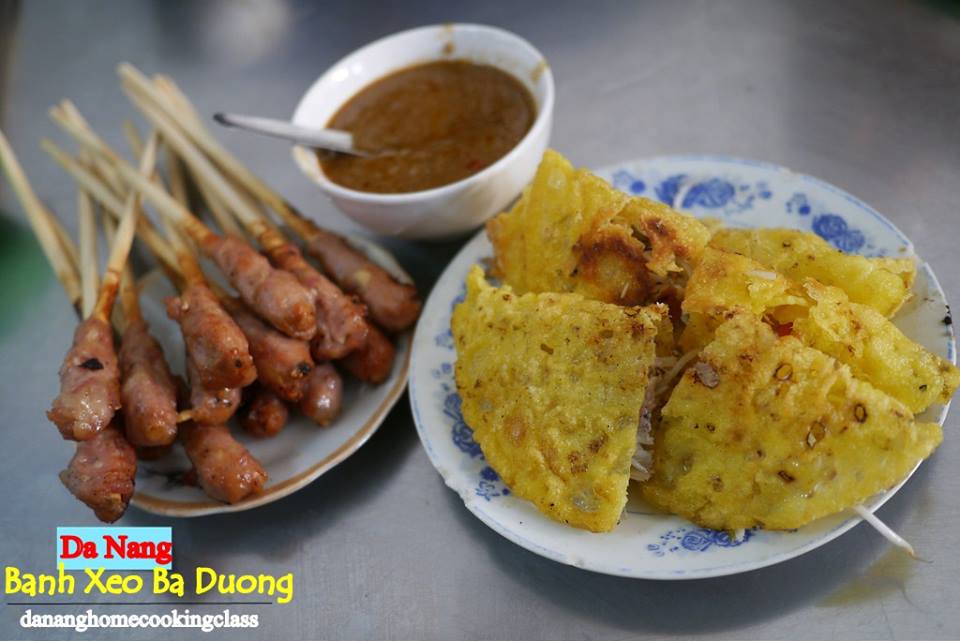 Banh xeo Ba duong Important Information 
Open time: 9am-9:30pm

Price: BBQ pork stick (nem lui): vnd5,000/stick

Special pancake with vegetable and dipping sauce: 

Vnd55,000/a dish of 5 cakes
Rice noodles with grilled pork and special fish 

  

sauce: vnd25,000/bowl

Beverages: Hoi An corn milk, vegetarian milk made from lotus seeds, pumpkin, green beans, red beans (all are at the same price: vnd 12,000) and other types of soft drinks and beer (ranks from vnd 12,000 to 22,000)

Location:

 At the end of the alley K280/23, Hoang Dieu Street (you can ask locals for the right restaurant because there are many other pancake restaurants along the same alley that can make you confused).
Love Lock Bridge which locates right at the head part of Dragon Bridge must be the next destination at night for young couples and selfies. When night comes, all fascinating heart-shaped lanterns along this romantic bridge will be lit on red. Why don't you take some photos here with "your friends"?
From this bridge, you are provided with a perfect view to Dragon Bridge in different beautiful colors and the huge magnificent statue of a carp fish transforming into a dragon as the symbol of the city's prosperity. 
Break time: Eat Coconut jelly as dessert:
Finishing your short "love trip", you can taste some more dishes as dessert before having a nice sleep at your hotel. Bach Dang Street is one of the most crowded and lively streets at night in Da Nang with varied coffee shops, bars, pubs, restaurants, etc. Most especially, the dessert made from coconut is a specialty food of this street. You can enjoy the fresh and unique flavor of coconut yogurt, coconut jelly, coconut milk, coconut caramel, durian yogurt, etc.
Important info:  
Location: 196 Bach Dang Street, Da Nang 

Open time: 8am-11pm

Menu and price: Coconut yogurt: vnd25,000; Coconut jelly: vnd35,000, Durian and avocado mix: vnd30,000, Coconut flan: vnd40,000
The view offered on the 2

nd

floor looking to the river and the street will give you a great chance to take wonderful photos.
Now, it's time to catch a taxi back to your hotel and take a rest for tomorrow trip.
Day 2: Enjoy sun-rise and trip to Ba Na Hill
How about getting up early and climb to the rooftop of your hotel to eye-witness the stunning sun-rise view from this perfect angle? The early local life, gentle Han river, the quite bridges and people doing exercises on the pavements along the riverside will give you a great deal of positive energy for a new day of discovering.
Now, filled with pleasure, it's time to dress up and get ready for breakfast.
Breakfast-  Quang noodles
Do you want to be a local to eat what they usually eat for breakfast? If so, Quang rice noodles is what you should go for.
Quang rice noodles cooked with pork, shrimp, (or chicken if you prefer this type), quail egg and thick savory broth. Crispy rice crackers and fresh raw vegetables will give you the extra feeling of satisfaction. 
Quang Noodle shop- Important Information
Add:

1A Hai Phong Street

Open time: 7am-10pm

Price: from 30,000 VND – 40,000 VND 

You can choose version of pork, shrimp, chicken, or eat all kinds of ingredients: vnd40,000/bow
Ba Na Hills Trip: 8.30 AM – 4.00 PM 
Breakfast time is over. It should be 8 or 8:30 am. Now get on your motorbikes and head to Ba Na Hills.
Ba Na Hills

ticket price

: vnd 700,000/person.

If you also want to explore

Wax Museum and Debay wine cellar

, you will have to pay vnd 140,000 extra for each person.

Where to buy tickets to Ba Na Hills? Check this link: 
Ba Na Hills has its own reason to be called "the way to heaven". There are uncountable beauty spots here for you to contemplate such as

French Village, Le Jardin d'Amour Flower Garden, spiritual landmarks like Linh Ung Pagoda, Tombstone temples, Campanile, etc.
More than 105 indoor games in

Fantasy Park

are price-included in your ticket. So, just play as much as possible to exhaust yourselves.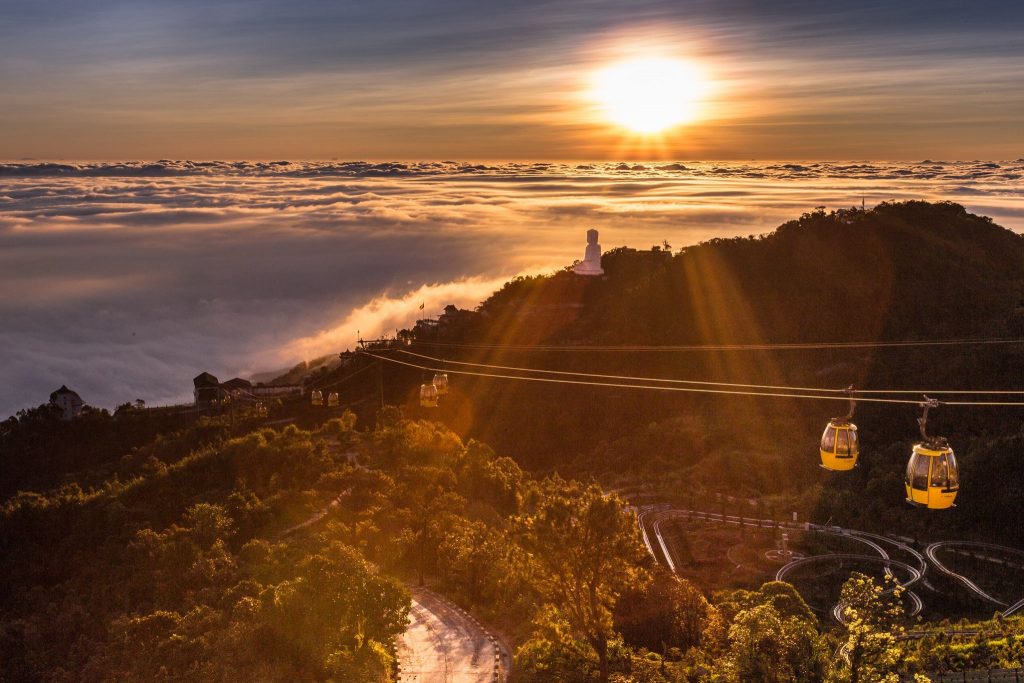 The special outdoor games that you "must not" skip are Funicular and Alpine Coaster which will bring you a lot of excitement and unforgettable moments of thrilling.
Break time: Bun Cha Ca Ong Ta:
The amazing visit to Ba Na Hills may finish at about 4 pm. Now you can come back to the city for a rest in your hotel. Afternoon dish is waiting for you after that nap: Fish Cake Noodles with hot broth.
Fish Cake Noodles Information
Location: 113A Nguyen Chi Thanh, Hai Chau District, Da Nang.
It is family business for generations of over 40 years
Open time: 7am-10pm
Price: from 30,000 VND – 70,000 VND/ 1 bowl. Signature dish: Noodles with steamed/ deep-fried fish cake: vnd 30,000/bowl
Read Where To Eat Fish Cake Noodle Soup in Da Nang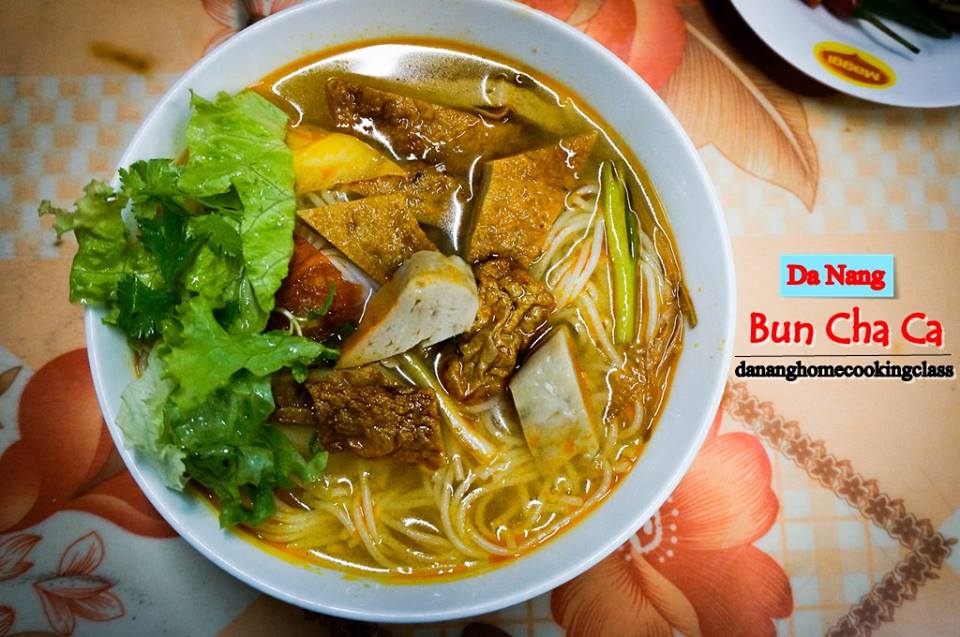 Break time:  Enjoy local coffee and city views 
When you are completely full (out of the big delicious noodles bowl), get ready to take a walk to Bach Dang Street which is very close from this eatery to enjoy the local vivid nightlife. Now, it's time for a cup of Vietnamese coffee. There are lots of cafés along Bach Dang Street for you to choose as a perfect spot for chatting with your friends and viewing the city life such as Cong Café, Café Karty, Highland Coffee, Memory Lounge, etc.
Here is some recommendation for coffee time:
Cong Café: 96 Bach Dang Street: an ideal place for your group to talk and enjoy the local city life.

Cafe Karty: 98 Bach Dang Street

Highland Coffee: 74 Bach Dang Street
Memory Lounge: 07 Bach Dang Street
Read Top must visit cafes in Da Nang
Coffee time is over. Don't be reluctant to take a walk along Han Bridge to contemplate the whole colorful city view in the middle of the bridge and enjoy cool wind from Han River. This walk will give you a meditation time for a deep sleep this night.
Day 3: Explore Hoi an heritage city 
Breakfast: Eat Bun Bo Hue Ba Thuong:
Now, a change for breakfast menu: Hue Beef noodles of Madam Thuong. The hot and savory broth with local herbs of this dish will give you a feeling of refreshment in the early morning.
Important Information of Bun Bo Hue Ba Thuong
Add:

23 Tran Quoc Toan Street, Da Nang 

Open time: 5:30am-11:30am

Price: from 25,000 VND to 45,000 VND 
Depending on bowl size and types of beef you choose on site with the cook
This eatery has more than 20 years of experience in cooking this specialty food of Hue. So it is very famous with locals, the food will be sold out in a short time. Try to get up earlier than usual, my friends!
Explore: Son Tra Peninsula (9 AM- 12.00 noon) 
Get on your motorbike and make a trip to Son Tra Peninsula for fresh morning air on the streets uphill. You can drop on some magnificent spots along the way to Linh Ung pagoda for "check-in photos" because the view looking from this angle is perfect to the sea and the whole city downside.
Do you want to join one day tour to Son Tra Peninsula as well as all other hot spots there with an experienced local guide? Book a tour with us. 3 in 1 tour: Marble Mountain and Son Tra Peninsula, Hoi An Day Trip
You can spend 1 or 2 hours visiting Linh Ung pagoda and then keep travelling to the top of this mountain if you are still energetic to discover Ban Co mount and 100-year-old Banyan Tree.
Lunch: Beo seafood restaurant
The motorbike trip to destinations in Son Tra Peninsula will take you the whole morning and now it is lunchtime. Drive straight to Beo Seafood Restaurant for a perfect lunch.
Important Information of beo seafood restaurant: 
Location:

The crossroad between Le Duc Tho Street and Hoang Sa Street.

Open time: 10am-11pm

Price: 

from 15,000 to 300,00 VND. It is

 

very reasonable compared to other seafood restaurants.
After your big lunch, you can come back to your hotel for check-out and then find the nearest petrol station to fill up your "horses" with vnd 50,000 of gasoline for each motorbike (vnd 100,000 for 2 motorbikes).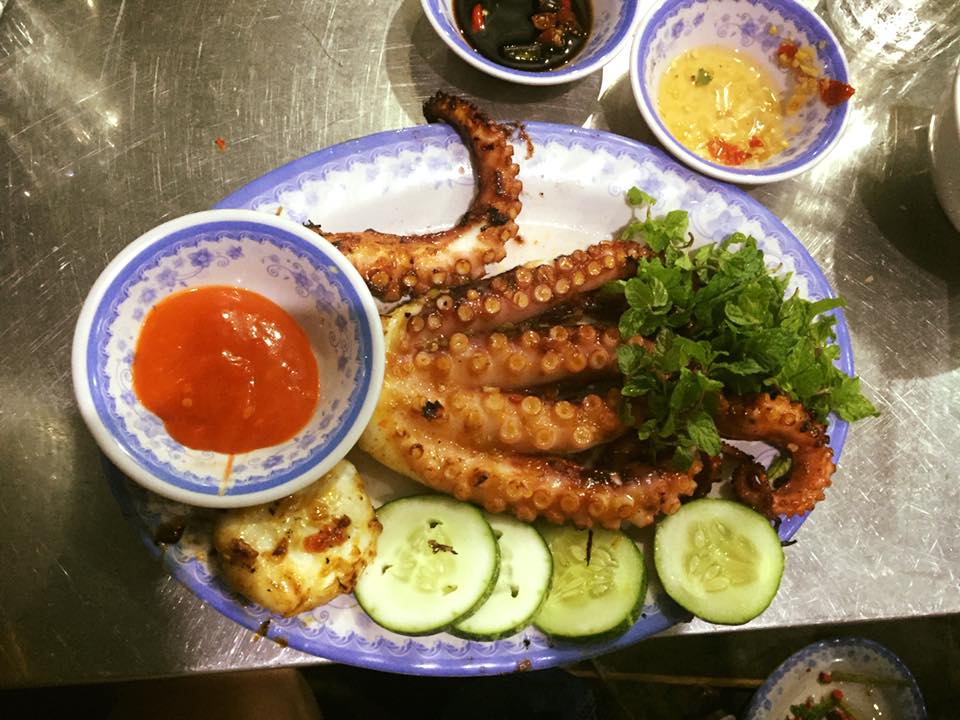 And the next destination is Hoi An ancient town.
It only takes you less than an hour to travel from Da Nang to Hoi An by motorbike (only 30km). You just need to drive along the seaside road the whole journey and take only one right turn then it comes Hoi An area. On the way, your team can drop by to "check-in" Marble Mountains to the right side and the beautiful beach to the left side.
Check out some well-known and good quality food tours in Hoi An at:
Lunch: Banh My Phuong 
The very first local cuisine you MUST try to have the initial impression about Hoi An's local food is Banh my Phuong (baguettes made by Madam Phuong). Together with Banh my Madam Khanh, these two are the most famous "Banh my" sellers in Hoi An.
Important information of Banh My Phuong 
Location:

2B Phan Chau Trinh Street

Open time: 6am-9pm

Banh mi with a variety of ingredients inside such as garlic butter, grilled pork, grilled sausages, omelette, cheese and onions, pork ham and pate, bacon, and also Banh mi for vegetarians with vegetable and salad as main ingredients.

Price of Banh mi: from vnd20,000 to 30,000.

Where to eat Hoi an bread?  Read blog 
Looking for cheap lunch in Hoi An? Check our some local restaurants in Hoi an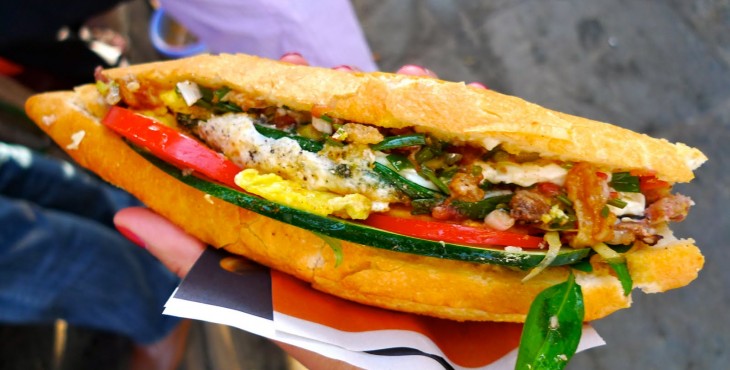 Check-in Moon's Homestay
After Banh my, you can check-in Moon's Homestay at 82 Ngo Quyen Street or An Hoi Hotel at 69 Nguyen Phuc Chu Street.
An Hoi Hotel

has an ideal location in the middle of the city center for easier access to visits and activities. It also offers a swimming pool for guests. The front street is only for pedestrians and the street behind it named La Hoi Street allows motorbikes to travel.

Price:

a quad room costs vnd 500,000/ day.
4.00 PM: Explore Hoi an ancient town
After check-in your hotel, you can swim for a while in the hotel swimming pool and then get dressed for an ancient town night walk. The beautiful old quarters with narrow alleys and vaporous lights from colorful lanterns hung in nearly every corner of the town will make you a little nostalgic and peaceful.
7.00 PM: Visit night market and eat local snacks
Now your team can move to the other side of the town across the nearby bridge to immerse in a crowded night market where many local snacks and souvenirs are sold by locals.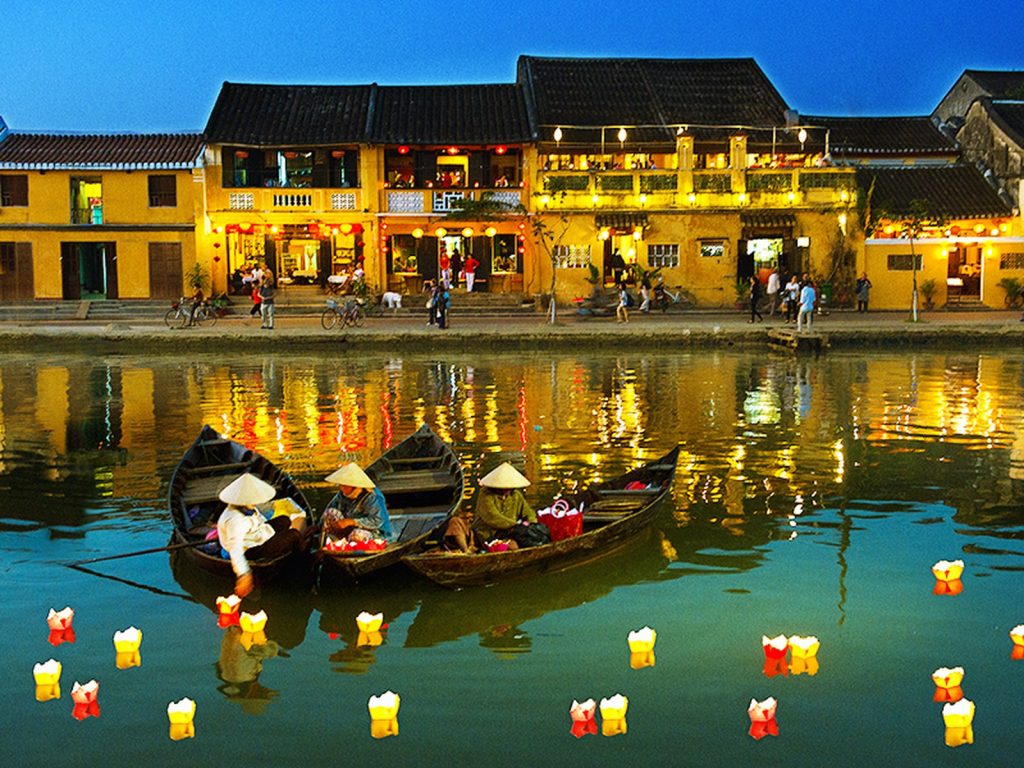 Dinner time:  chicken rice- Com ga ba Buoi
Your long walk will soon make you feel hungry again. However, don't just drop by to a random restaurant among hundreds of restaurants along the streets. Madam Buoi chicken rice is a cannot-skip specialty dish in Hoi An you must try now.
Important information:
Location:

22 Phan Chu Trinh Street, hoi an 

Open time:

11am-9pm

Price: vnd35,000 to 55,000
8.30 PM: A short boat trip on Hoai river:
A dish of good chicken rice will give you more energy for the left part of ancient town discovery. Your team can rent a boat (with lifejackets and local sailor) to enjoy river view and the busy colourfully- lit streets from two sides of the river. Then you will have a chance to leave lotus-shape lanterns on the river and make a wish as a local.
Boat rental price: vnd 100,000/ a small boat (fit for 4 people, not including the sailor)
You just need to go along the riverside where many sailors are standing on boats welcoming guests to their business, pick one boat and ask for the price first. If the price is as mentioned above, you can make a short boat trip right away.
9.00PM: Eat "stick ice-cream" and "sweet bean soup"
Don't forget to try "stick ice-cream" and "sweet bean soup" sold by street vendors along the streets when you incidentally see. Those two dishes are perfect desserts that will make you become children in seconds.

If you are an ice cream fan, check out these place: Cream bar and restaurant 
Now, no more to regret, walk back to your hotel in pleasure and take a nice sleep.
Read: More Things to do at night in Hoi An. 
Day 4: An Bang Beach 
Visit early morning central market:
Hoi An is a lot different in the early morning. So try to get up early and rent a bicycle from a nearby shop (vnd 20,000/ a bike) or from your hotel if they may offer free ones. Now you should ride to the central market where local sellers are already there selling their freshest vegetables and seafood or local breakfast. Don't forget to bring the camera with you! Bet that you can take wonderful photos ever!
Breakfast: Pho Tung:
An amazing breakfast is on your list: Pho Tung (hot beef noodles)
Important information: 
Location:

51/7 Phan Chau Trinh Street

Open time: 5am-10pm

Price: vnd20,000 to 44,000/bowl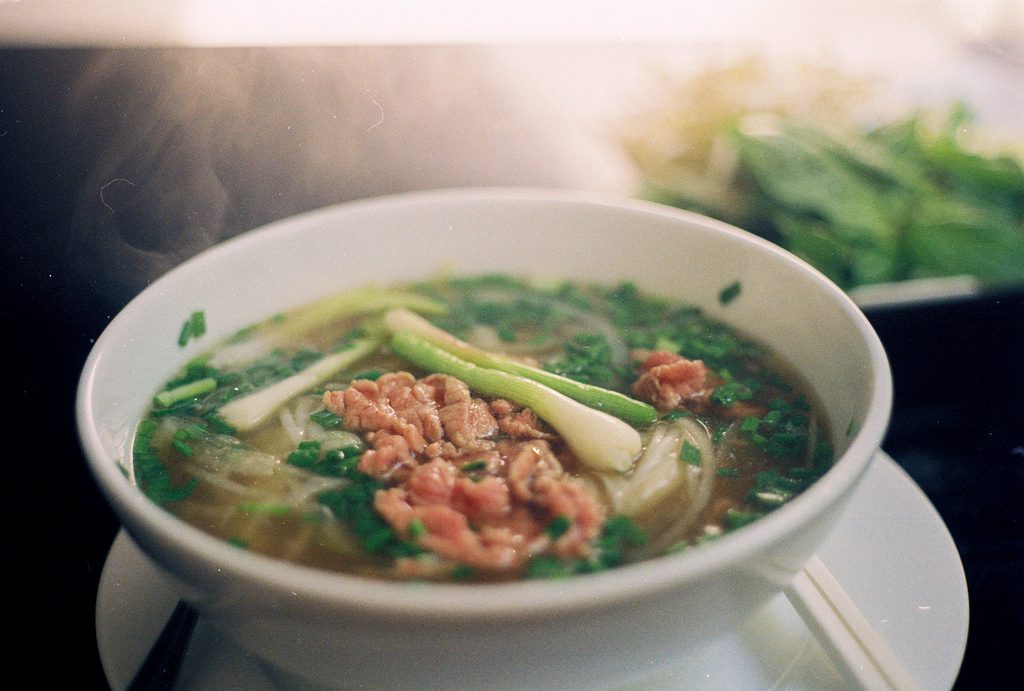 An Bang beach
That delicious and nutritious meal will give you enough energy for swimming and sunbathing in An Bang beach later. You must come back to your hotel and drive your motorbikes to An Bang beach which is quite far from the city center.
Apart from swimming and sunbathing, what else you can do in An Bang Beach? There are plenty of pubs, bars, cooking classes, tours and restaurants for you to enjoy your journey more completely.
So what's fun near An Bang Beach?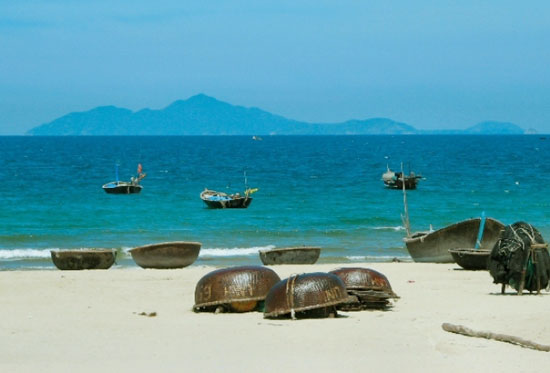 Local seafood restaurants in An Bang Beach 
Lunch: Eat Cao lau
Beach time is over. Now your group can come back to your hotel and check-out. It's also lunch time. Then nothing is better than a bowl of Cao Lau made by Madam Ha in the central market you have been in the early morning.
Important information for cao lau madam Ha
Location:

After parking your motorbike in a local parking lot, you just go inside the food court area and find the brand name "Cao Lau Miss Ha" at the end of the left side from the main door.

Open time: 6am-6pm

Price: vnd20,000 to 30,000/bowl
Go back to Da Nang- Visit Han Market
After Cao Lau, get ready for the motorbike trip back to Da Nang and discover Con Market- one of the two biggest local trading areas in Da Nang. You can find many souvenirs for friends and relatives as well as plenty of local snacks for tasting.
+Open time: Daily 08:00 – 20:00
+Location: 318 Ong Ich Khiem Street, Hai Chau District, Da Nang
Read: Shopping guide at Han Market
Return your motorbikes:
Now it's time to travel back to Da Nang International Airport, contact to the motorbike rental company and return your horses to their owners then wait for check-in the night flight back to your home country or the next destination if you may go further.
Get around Da Nang by motorbike
Where to rent a motorbike in Da Nang
These are the two motorbike rental companies 
-Danang motorcycle rental service- Binh Minh Company
Address: 36 Ta My Duat Street (turning to Phan Boi Street from Pham Van Dong Street).
Phone contact: 098 686 29 86 – 0938 006 843 (Mr. Khoa)
Rental fee is from 80,000 vnd to 120,000 vnd per day depending on different types of motorcycle such as Jupiter, Sirius, Wave RSX, Wave S, Attila Victoria, Atila Elizabeth, Nouvo LX, Honda AirBlade.
These motorbikes can be brought to your place at Danang international terminal, train station or hotel in working hour from 6 am to 23 pm.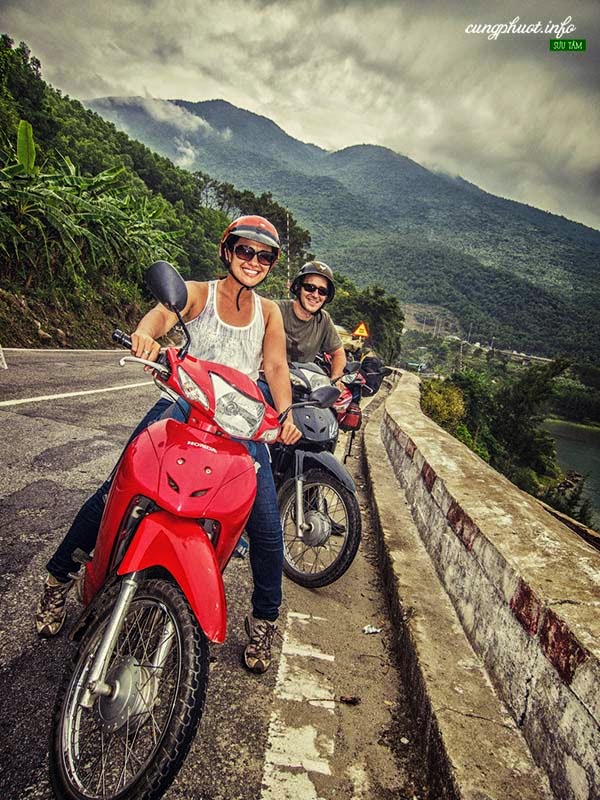 -The Native Company- Tourism agency:
Phone contact: 0935 139 979 ( Ms. Vân)
Address: K77/08 Tran Khanh Du, Ngu Hanh Son District.
Rental fee: 80,000 vnd per day (24 hours of using)
There are many different types of motorcycles available for you to choose. The company staff will also bring the motorbikes that you want directly to your place. Useful traveling itineraries, detailed lists of local tourist destinations, good local restaurants and food stalls in Danang will be also willingly recommended and offered for free.
Duong Khue motorbike rental company- 0905.30.40.50

Le Truong company-0981.331.331

Anh Tuan motorbike company-0905.70.80.90

Dang Khoa company-0981.227.227

Da Nang good transportation rental-0988.000.835
It will become much more convenient because all of these companies offer the service of bringing your motorbikes right to the airport or hotel without charging.
Cheap hotels in Da Nang and Hoi An
*IN DA NANG:
Memory Hostel is one of the most distinctive hostels with classical design and view to Han River and Dragon Bridge.
+ Double room price: vnd 400,000/ room.
+ Triple room price: vnd 500,000/ room.
+ Quad room price: vnd 600,000/ room.
+ Location: 03 Tran Quoc Toan Street, Phuoc Ninh, Da Nang.
+ Phone number: 0511 3747 797
Haya Hotel is a new and modern fully- furnished 3-star hotel locating near My Khe Beach which is close to many hot tourist attractions in the city.
+ Reasonable room price:
   Single-bed room for two people: vnd 300,000/room
   Twin room: vnd 400,000/ room
+Location: 48 Phan Liem Street, Ngu Hanh Son District, Da Nang.
+ Phone number: 0906.444.525 – 0511.655.3389
Da Nang Homestay is specially designed for backpackers.
+ Dorm- type room with air-conditioner: vnd 80,000/person/day.
+ Quad room (with private toilet): vnd 350,000/room/day.
+ Motorbike rental service:
_Motorcycle: vnd 100,000/day
_Scooter: vnd 120,000/day
+Location: 473 Tran Hung Dao Street – or 28 Cao Ba Quat Street, Da Nang (the second branch with newer building)
            +Phone number: 0935.150.674 – 0917.192.307
*IN HOI AN:
Moon's Homestay: 82 Ngo Quyen Street, Hoi An
An Hoi Hotel:
+ Quad room: vnd500,000/room
+ Location: 69 Nguyen Phuc Chu Street, Minh An, Hoi An (right in the ancient town center)
 MUST CHECK IN HOT SPOTS
*In Da Nang:
East Sea Park

Love Padlock Bridge

Dragon Bridge

Han Bridge

Son Tra Peninsula

Linh Ung pagoda

Ban Co Mount (on top of Son Tra Peninsula)

Hai Van Pass

Ba Na Hills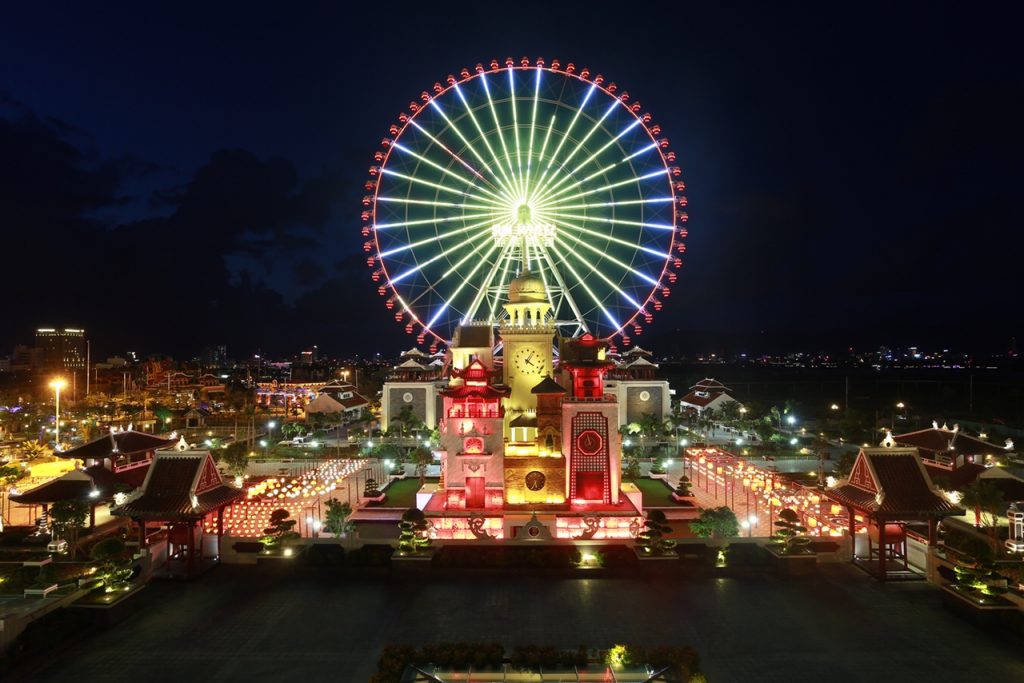 *In Hoi An:
– Hoi An ancient town
– An Bang beach
WHAT TO EAT
*In Da Nang:
Madam Van– rice noodles with special fish sauce and grilled pork
+Location: Alley K23/14 Tran Ke Xuong Street
+ Location: Alley K280/23, Hoang Dieu Street
Rice noodles (Specialty food in Quang Nam province)
+ Location: Mi Quang so 1A, Hai Phong Street
+Location: 113A Nguyen Chi Thanh Street
Hue Rice noodles with beef and hot broth- Madam Thuong
+Location: 23 Tran Quoc Toan Street
+Location: at the crossroad between Le Duc Tho Street and Hoang Sa Street
*In Hoi An:
Pho Tung– (family business for generations)-
+ Location: 51/7 Phan Chau Trinh Street
+ Location: 2B Phan Chau Trinh Street
+Location: 22 Phan Chu Trinh Street
+Location: Hoi An Central market, food court area, left side from main gate walking in
By the way of mentioning local cuisine discovery, if you are interested in joining a food tour in Da Nang or Hoi An, click this link to find out more: Da Nang Food Tour: