How To Get to Bana Hill
How to get to Ba Na Hills– Ba Ba hill is also known as "Sapa of Central Vietnam," is a must- visit tourist destination in Danang with heavenly sceneries. Locating high on top of a mountain, Ba Na Hills has not only cool weather but also splendid architectures such as Fantasy Park, French village and especially the Cable Car system which holds the world record for the longest non-stop single track cable car. Most especially, coming to Ba Na Hills, you will have a chance to experience four climate features of four seasons of a year within a day here.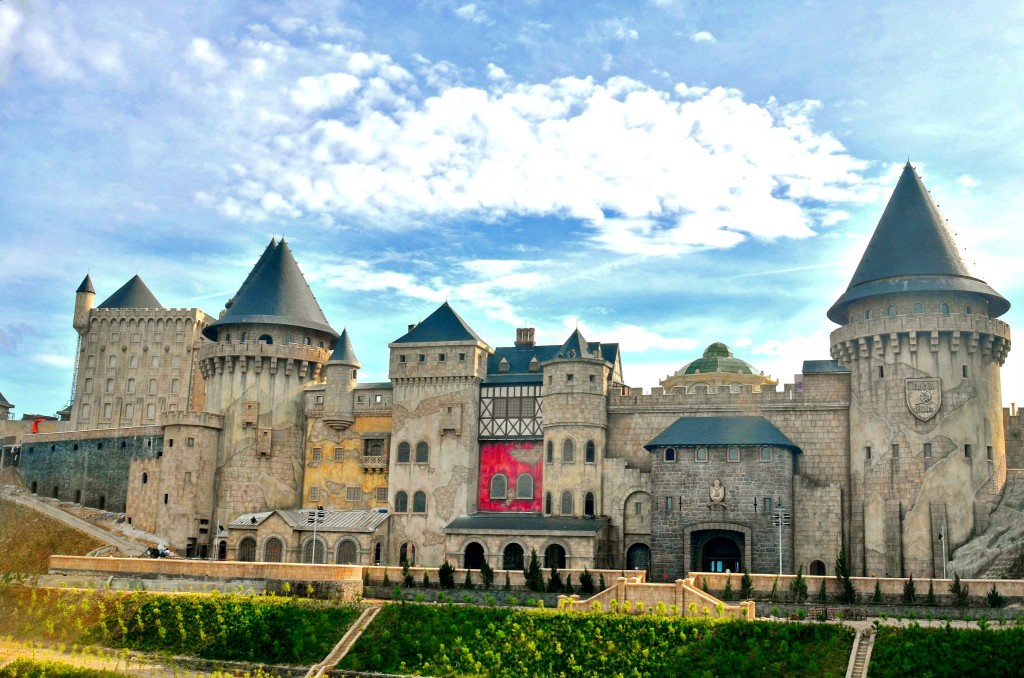 Get to Ba Na Hills from Da Nang 
There are different ways to get to Ba Na Hills from Danang city center: by motorbike, by taxi, bus or rented car. However, Danangcooking.com can offer you some useful and appropriate recommendations for the best transportation basing on your traveling style to Ba Na Hills.
How to get to Bana Hill –  By motorbikes
Travel with friends, enjoy excitement of adventure: should go by motorbike. Getting to Ba Na Hills by motorbike will bring you a wonderful experience as you can freely enjoy the magnificent sceneries, stunning road views and easily stop aside the road anytime you like on the way to take unique photos ever.
The rental fee for each motorbike is from 100,000 to 150,000 VND per day depending on the type of the motorbike or scooter (from 8 a.m to 9 p.m). Don't forget to check the amount of gasoline first then fill "your metal horse" up with petrol before getting started. So you should ask the owner about the nearest gas petrol station. 
Get to Ba Na Hills by motorbikes 
When you come to the entrance of Ba Na Hills, take your motorbike to the parking station then buy a cable car ticket to get to the Ba Na mount.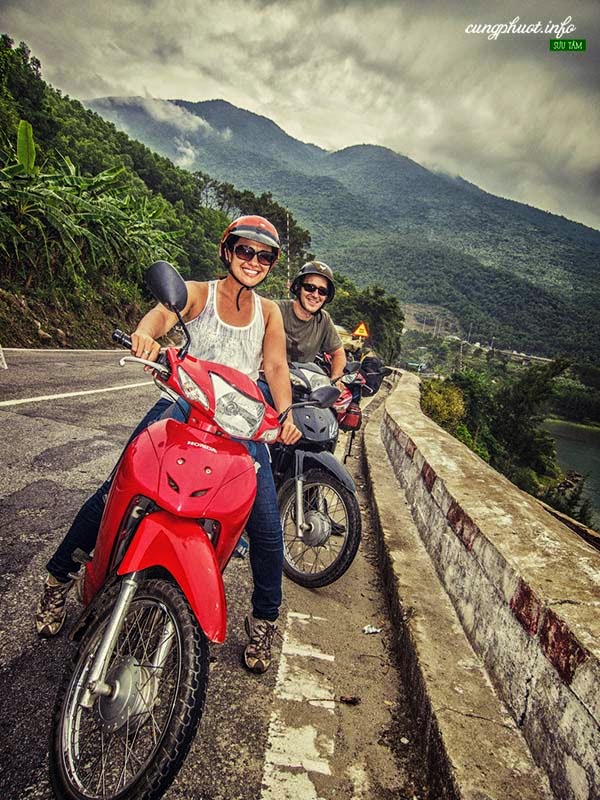 Photo by  Adam Brill
Note: Don't take a risk if you don't drive motorbike frequently because the roads up on the hill are quite sloping. 
It takes you about 40 kilometers to get to Ba Na Hills from Da Nang city center to the Southwest. We offer you 3 different routes to choose for your journey. Nonetheless, many people usually use these two routes: Main road 602 (39.8 km long) and Ba Na- Suoi Mo road (37.3 km long).
Where to rent a motorbike in Da Nang
These are the two motorbike rental companies that bring pleasant to most tourists:
-Danang motorcycle rental service- Binh Minh Company
Address: 36 Ta My Duat Street (turning to Phan Boi Street from Pham Van Dong Street).
Phone contact: 098 686 29 86 – 0938 006 843 (Mr. Khoa)
Rental fee is from 80,000 vnd to 120,000 vnd per day depending on different types of motorcycle such as Jupiter, Sirius, Wave RSX, Wave S, Attila Victoria, Atila Elizabeth, Nouvo LX, Honda AirBlade.
These motorbikes can be brought to your place at Danang international terminal, train station or hotel in working hour from 6 am to 23 pm.
-The Native Company- Tourism agency:
Phone contact: 0935 139 979 ( Ms. Vân)
Address: K77/08 Tran Khanh Du, Ngu Hanh Son District.
Rental fee: 80,000 vnd per day (24 hours of using)
There are many different types of motorcycles available for you to choose. The company staff will also bring the motorbikes that you want directly to your place. Useful traveling itineraries, detailed lists of local tourist destinations, good local restaurants and food stalls in Danang will be also willingly recommended and offered for free.
Photo by yan_he0
2. How to get to Bana Hill-  by Bus
Open bus ticket price to get to Ba Na Hills
2 ways: 10 USD/ 1 pax 
Include: pick up from hotel center.
Departing time is from 8:30 am and returning time is 14: 30  in the afternoon. You will be carried back to the city center on returning way.
Duration is from 70 to 80 minutes.
Please email to danangcooking@gmail.com or Whatsapp: +84 976 128 977 to book a bus from Da Nang hotels to Ba Na hill
More detail shuttle bus from Da Nang center to Ba na hill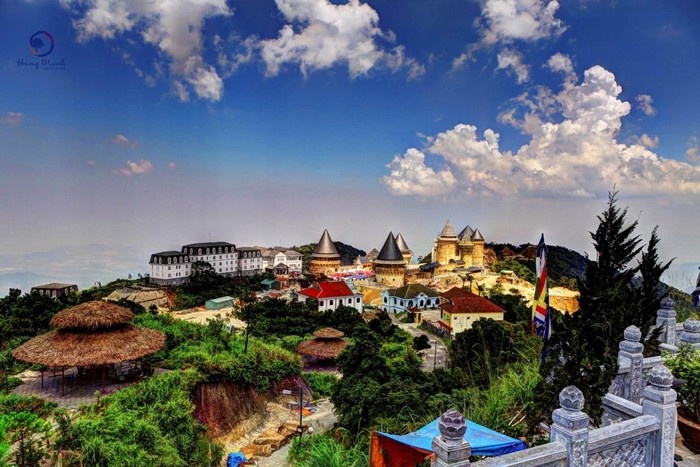 3.How to get to Bana Hill- By Taxi
Travel with family including children, old people: Taxi is the best choice
In this case, to get to Ba Na Hills, you should rent a taxi for the whole day (8 hours in total) for both catching you at your place and dropping you off in the afternoon. The price is about 800,000 vnd. It will be more expensive if you rent a taxi with 7 seats. If you are foreign tourists, it may be more difficult to communicate with a taxi driver. When you arrive at Ba Na Hills entrance, you can either parking your taxi or telling the driver your returning time for him/her to know. Now you can get yourself a cable car to go uphill.
*Some most popular taxi numbers:
-Mai Linh taxi:023.3.56.56.56
-Tien Sa taxi: 023.3.79.79.79
-Song Han taxi:023.3.72.72.72
-Vinasun taxi: 023.3. 68.68.68
4. 
How to get to Bana Hill- 
private car transfer
If you want to be more flexible about time management as well as choosing your preferred route to get to Ba Na Hills, you can use Da Nang Private car transfer service.  The price above already includes wage for a driver, gasoline, parking fee and road traveling fee, passenger insurance.

Families with children usually use this service for transportation to Ba Na Hills thanks to its flexibility to kids.

–Advantages:
+Be suitable for group and family travel.
+Flexible time management
Group 1- 4 pax: 38 USD/ 4 seat car
Group 5 – 6 pax : 42 USD/ 7 seat car
Group 7- 13 pax: 55 USD/ 16 seat car
Please email to danangcooking@gmail.com or Whatsapp: +84 976 128 977 to book a private car from Da Nang hotels to Ba Na hill
Passengers are picked at hotels (or airport) and taken back after the journey.
Duration: from 7:30 am to 18:00 pm (extra pay will be included if you rent a car over 18:00 pm). Extra charge: 10 USD/ 1 hour.
5. Ba Na Hills Entrance fee
Cable car tickets are sold in ticket selling sites on the bottom of the mountain. However, on weekends or during high tourism season, you have to line up for a very long time to buy tickets to Ba Na Hills. What is more,it will be more tiring to groups with children waiting for buying tickets.
Where to buy Ba Na Hill Ticket
Add: 93 Nguyen Van Linh St, Da Nang 
Or through tourism companies or hotels that you stay in.
Price of Ba Na Hill entrance fee
Adults and children over 1.3 m tall: 650,000 vnd OR 32.5 USD (inclusive of mountain climbing train and Debay wine cellar, not Wax Statue Museum).

Children below 1.3m: 550,000 VND or 25 USD.

Children below 1m: Free 
The prices  include:
Entrance ticket to Ba Na Hills

More than 100 games in Fantasy Park for free
Excludes: 
Wax Statue Museum: 100,000 vnd.

Mountain climbing train is 70,000 vnd.
You should book a full day tour to Ba Na hill to avoid tiredly queuing for tickets too long, especially in holidays, festive occasions or high tourism season in May, June and July.
6. Full day tour to Ba Na Hills with buffet
You can book a day trip tour to Ba Na Hills Da Nang Cooking Class. The staffs there will arrange for picking you at Danang city center or at your hotels as your request.
Price: 45 USD/ 1 pax.
The price is inclusive of picking and returning hotel transfer in Danang city center, cable car ticket and lunch buffet at a restaurant in Ba Na Hills. 
If you go with a group of 1 to 4 people or more, joining a tour to Ba Na Hills with other tourists will save you a great deal of time because you do not have to queue too long for cable car tickets and moreover easily to discover spots in Ba Na Hills with an economical fee.
You can also read more of 1 day trip to Ba Na Hills with budget price in detail in Danang Cooking site.
What to explore at Ba Na Hill
Activity recommendations in Da Nang : 24 Things to do in Da Nang
If you are traveling with kids, check this out What to do with kids in Da Nang
Are you a coffee lover, try these Top must visit cafes in Da Nang
Here is top 26 Food to eat in Da Nang.