What to explore in Ba Na Hill
What to explore in Ba Na Hill if you have one day? Ba Na Hills: The way to heaven. The ideal destination on top of Chua Mountain, far away from noisy city and residency area together with the magnificent beauty of its ancient French- style designed castles make Vietnamese people name Ba Na Hills as "The way to heaven".Ba Na Hills is a well- known complex tourist destination offering a variety of new, modern and appealing entertaining activities for visitors. It is a place for photography, wedding shots and honeymooners and children's will love it. Don't hesitate to get ready for planning an amazing trip to the mysterious Ba Na Hills with Da Nang Home Cooking Class.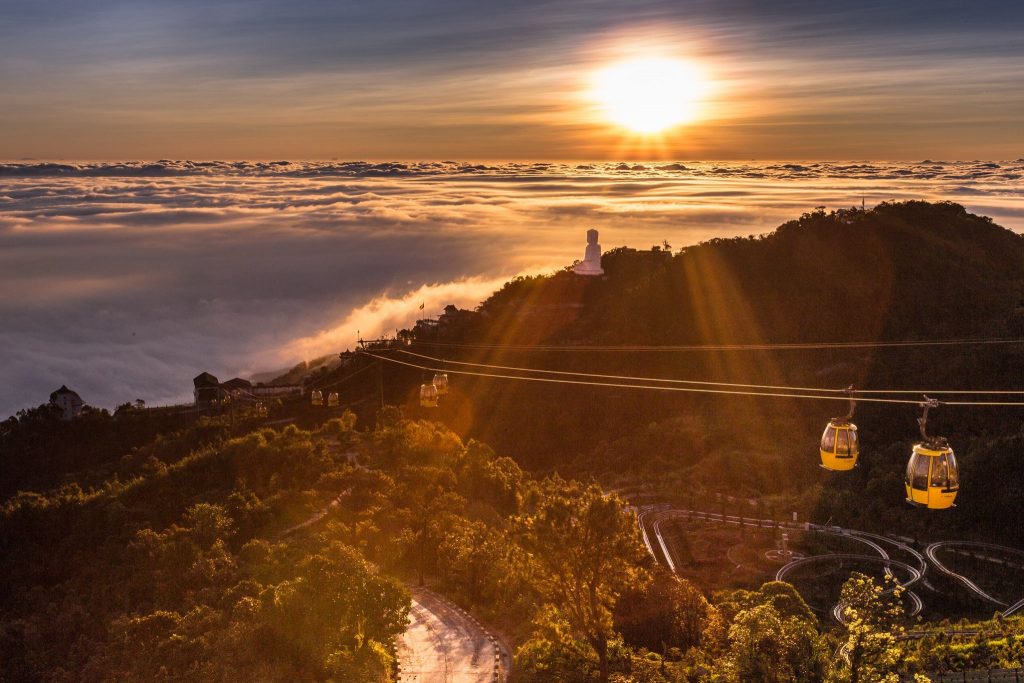 Photo by: Ba Na Hill
1. Ba Na Hill Ticket Information
Adults and children over 1,3 m tall: 700,000 vnd (inclusive of mountain climbing train and

 

Debay wine cellar)

Children between 1-3m tall: 600,000 vnd.

The prices above include: 

Entrance ticket to Ba Na Hills  and 

More than 100 games in Fantasy Park 

Exclude: Wax Statue Museum: 100,000 vnd/ 1 pax
Check our travel guide: How to get to Ba Na Hill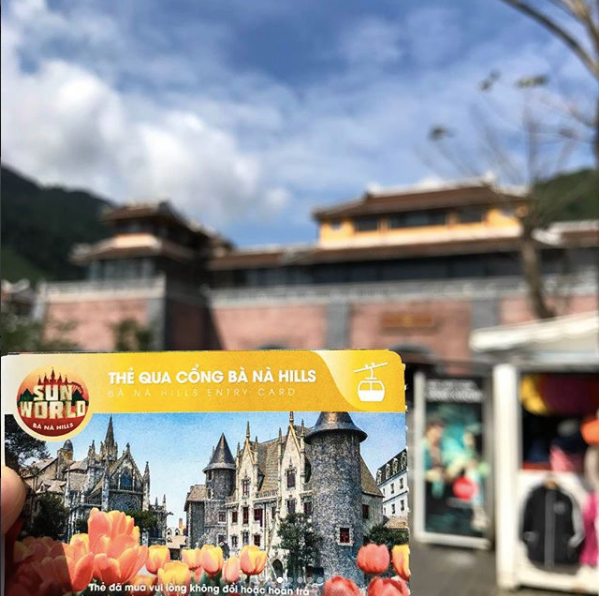 Photo by: Ba Na Hill
NOTE: If you love Vietnamese food, don't miss our Da Nang Home Cooking class: 39 USD/ 1 pax. Money back guarantee
2. Where to buy Ba Na Hill Ticket
Ba Na Hill office:  93 Nguyễn Văn Linh , Hải Châu, Đà Nẵng.
Phone: +84 (0236) 3.749.888 /   Email : banahills@sunworld.vn
Or you can buy at the entrance gate.  However, on weekends or during high tourism season, you have to line up for a very long time to buy tickets to Ba Na Hills. What is more, it will be more tiring to groups with children waiting for buying tickets.
You can book a day trip tour to Ba Na Hills Da Nang Cooking Class. The staffs there will arrange for picking you at Danang city center or at your hotels as your request.
Price: 45 USD/ 1 pax.
3.What to explore in Ba Na Hill
3.1. Enjoy stunning sceneries while sitting on the cable car-What to explore in Ba Na Hill
It is the World's Longest single-rope cable car system 5,801m and also the world highest difference between departure station and arrival station 1,368m. From the cabin, you can admire a vast beautiful landscape with floating clouds, green mountains, dense forests, magnificent waterfalls, etc which are as impressive as views seen from famous cable cars in South Africa, in Hong Kong or Langkawi. If you travel on a sunny day,  you'll get to enjoy the breathtaking panoramic mountain view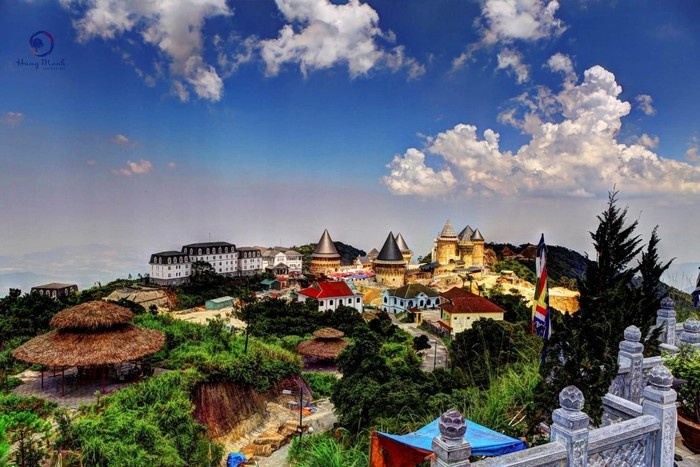 The cable car traveling is divided into 2 lines: Suoi Mo- Ba Na (line 1), Debay- Morin (line 2). Line 3 from Suoi Mo to L'Indochine has just been constructed and applied into operation. You can choose one line of departure and the other for way down to have different unique experiences.
3.2 Visit Le Jardin D'Amour flower garden –> one of the best photo spots in Ba Na Hills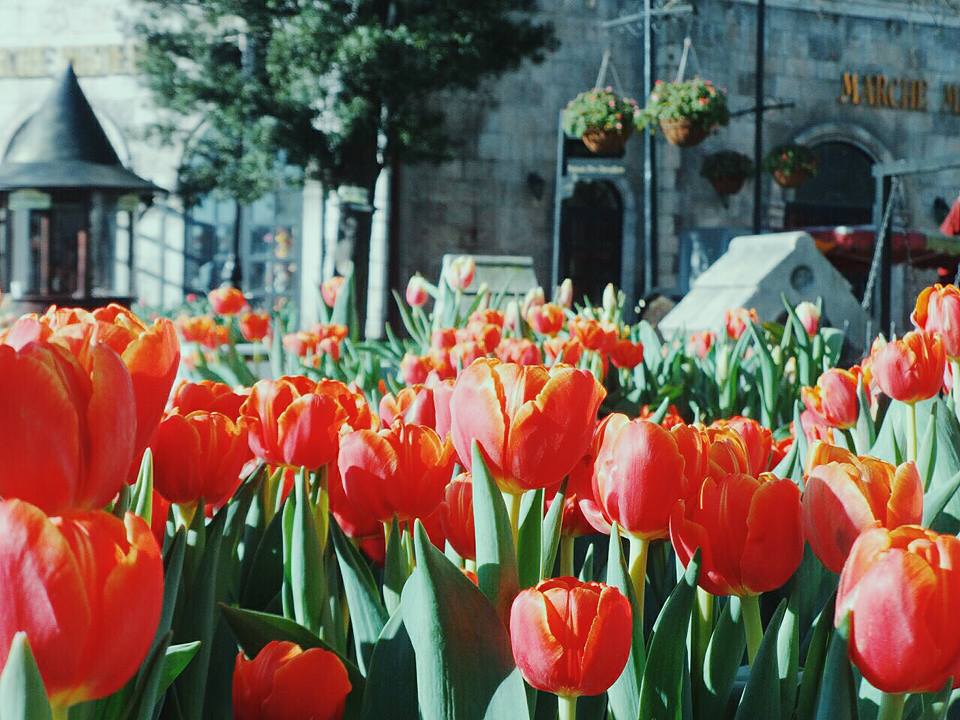 Photo by: Ba Na Hill
You may like spending most of your time taking photos in this romantic and magnificent garden because of its picturesque European architectural style. The garden is divided into 9 smaller parts which are all covered in poetic and nostalgic beauty of a forest of gorgeous flowers. Each part of the garden was designed on a different theme with different decoration and arrangement, which gives you more than the feeling of excitement to explore this place.
There is a maze in Le Jardin D'Amour garden which is all time cool and quiet, perfect for you to walk around for relaxing. The outside of this maze is full of sunlight and can be a little hot at mid-day time, especially at about 10 am till 2 or 3 pm. The flowers and decorating sections here are also low in height.
3.3 Experience Mountain hiking train – What to explore in Ba Na Hill
You will have a chance to explore some amazing destinations such as picturesque Le Jardin D'Amour flower garden and Debay Wine Cellar or Tinh Tam garden, etc.
The train offers one lift in every 5 minutes, operates on 400- meter long cable system along the hill and can fit 80 people. You can really feel excited about this brand new activity because you don't have to wait for too long for your turn though there are many passengers queuing for tickets.
3.4 Visit Linh Ung Pagoda- What to explore in Ba Na Hill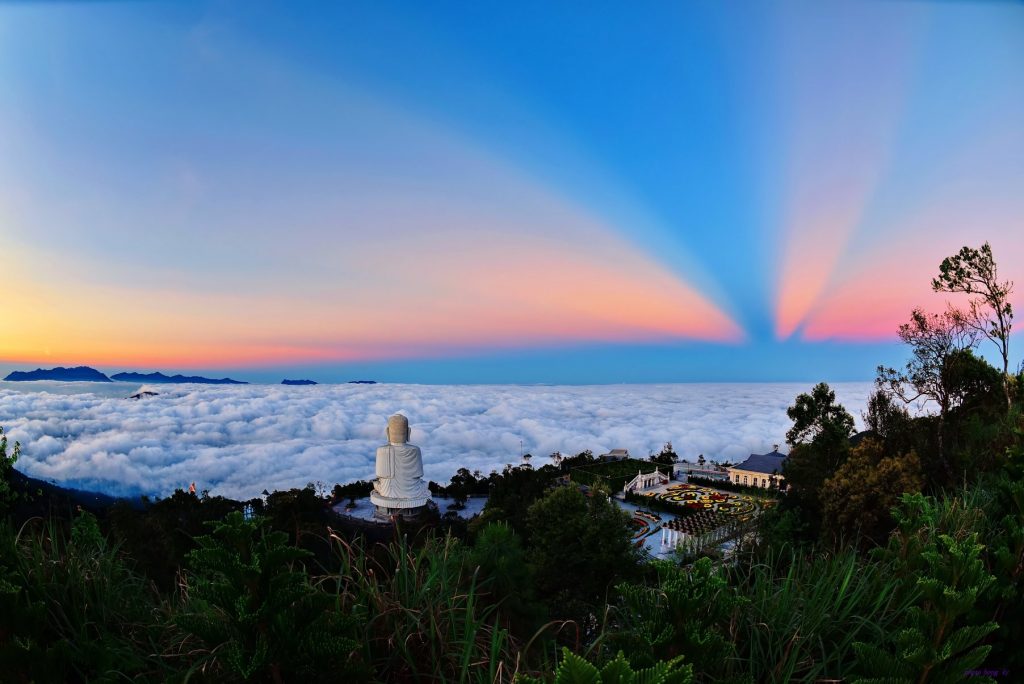 Photo by: Ba Na Hill
In Ba Na Hills, you will have a chance to visit one of the three Ling Ung Pagodas in Danang. After getting off the cable car, you can spend some time walking to this pagoda to set incense and pray. There is a huge 27m- height Shakyamuni Buddha Statue sitting on an 8-side platform which symbolizes 8 stages of Buddha's life. A big garden was built in the pagoda area to represent the first place where Shakyamuni Buddha had given his very first religious lesson.
It can take you from 1 to 2 hours to discover the whole large area of this pagoda, which is filled with cool wind, peace and quietness, not as noisy and crowded as most other parts of Ba Na Hills.
3.5  Enjoy a glass of wine in Debay ancient wine cellar-What to explore in Ba Na Hill
This unique wine cellar was built in 1923 by French colonists for the purpose of storing their wine. Though decades have passed, its inside structure is still quite firm as its first days thanks to a special kind of material used for constructing this place- quarried stone blocks.
3.6. Visit Wax Statue Museum- What to explore in Ba Na Hill
There are many impressive wax statues of famous people around the world from different fields such as politics, movies, entertainment exhibited. How enjoyable you may feel to take photos with distinguished scientist Albert Einstein, respectable President Obama, well-known football player David Beckham and Lionel Messi, movie star Jackie Chan, etc.
Entrance fee is 100, 000 vnd per adult or children over 1.3 m in height. Children under 1.3m in height enter for free.
If you haven't been to any Wax Statue Museum before, this museum will be a good choice for visiting and exploring interesting things. Though the statues look quite like real people, they can sometimes scare children. However, if you have been to Wax Statue Museums in Singapore or Thailand, you can skip this place in Ba Na Hills to discover other places here instead because these museums are quite same with just different wax statues.
3.7. Explore Fantasy Park – What to explore in Ba Na Hill
Fantasy Park may be called a cannot-be-missed destination in Ba Na Hills when you have a chance to visit this place. This unique indoor entertainment zone is built in an area of 21,000 square meters and recognized of international standard. Most of the indoor games are free (included in entrance ticket) consisting of not only simple games for kids but also thrilling games such as climbing rock wall, horror house, bumper car driving,  tower drop, skiver pilot, etc. These games are not as scary as their names may appear. You just shouldn't take a risk to play them when you're too full or you are not familiar with thrilling games.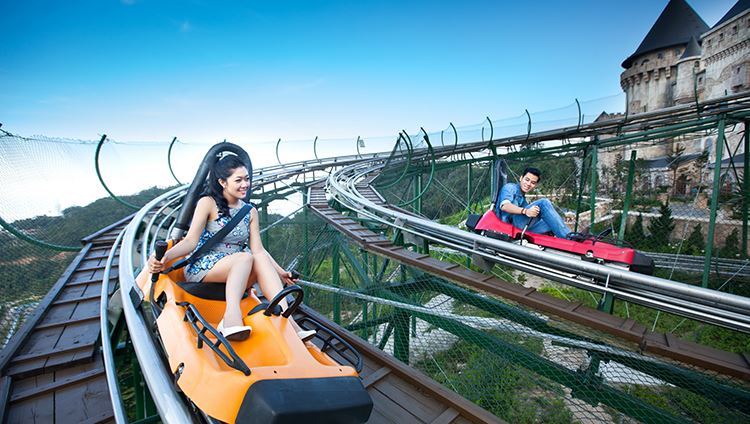 The alpine coaster is one of the most favorite outdoor game in Ba Na Hills, same as one in Datanla waterfall in Da Lat city but better quality, and can create more joy as well as excitement for tourists, especially young people who may even play the game again and again for thrilling.
3.8 Walk around French village – What to explore in Ba Na Hill
This ancient French architectural village has just been constructed and on operation in Ba Na Hills. It is called "a mini ancient European world" on top of Chua mountain. Talented and experienced French architects have worked in designing the village to create a real nostalgic space here. Visiting this village, you will discover a great deal of French cultural features. The highlights of Ba Na architectural constructions are splendid ancient castles, paving paths, gothic irony fences, etc. Since the place was open for tourists, many couples have come to take their wedding photos or celebrate the honeymoon.
3.9. Immerse yourself in springs- What to explore in Ba Na Hill
During summer, no one can resist the attraction of Mo spring because of its cool and clean natural water. There is another spring named Toc Tien which literally means "Hair of angels". It is 9 meters long and flows through the forest like long locks magically flying with the wind.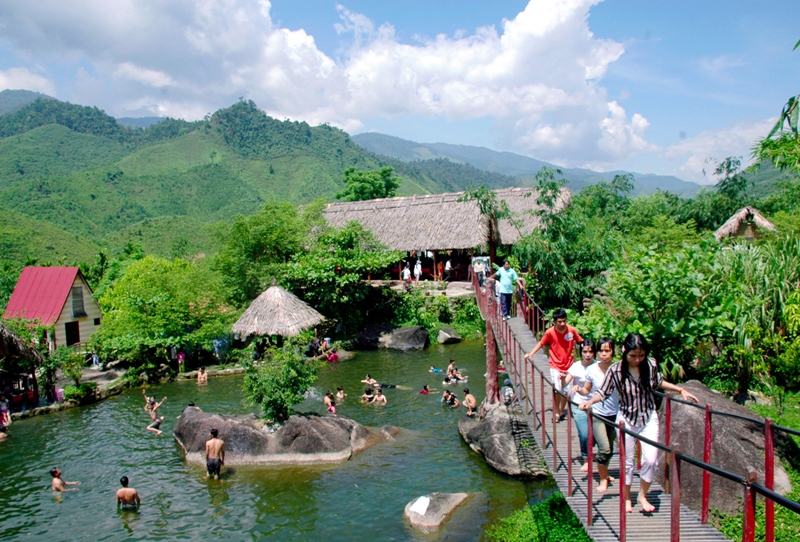 3.10 Buy souvenirs for relatives and friends – What to explore in Ba Na Hill
Cham Stone is the only luxurious souvenir shop in Ba Na Hills that offers hundreds of goods for souvenir purpose. You can have your carved portrait and buy unique gifts for your friends and relatives at home. The price of these goods is obviously expensive here. Personally, I would rather buy local specialties when I return to Danang city center instead because the price for these souvenirs is way cheaper.
3.11 Art Shows- What to explore in Ba Na Hill
Carnival Show: 20/04/2018 đến 20/09/2018
Variety of art forms: Street music, juggling, staples, circus, street magic, comedy dumb, body painting…
Place: Du Dome Square, French Village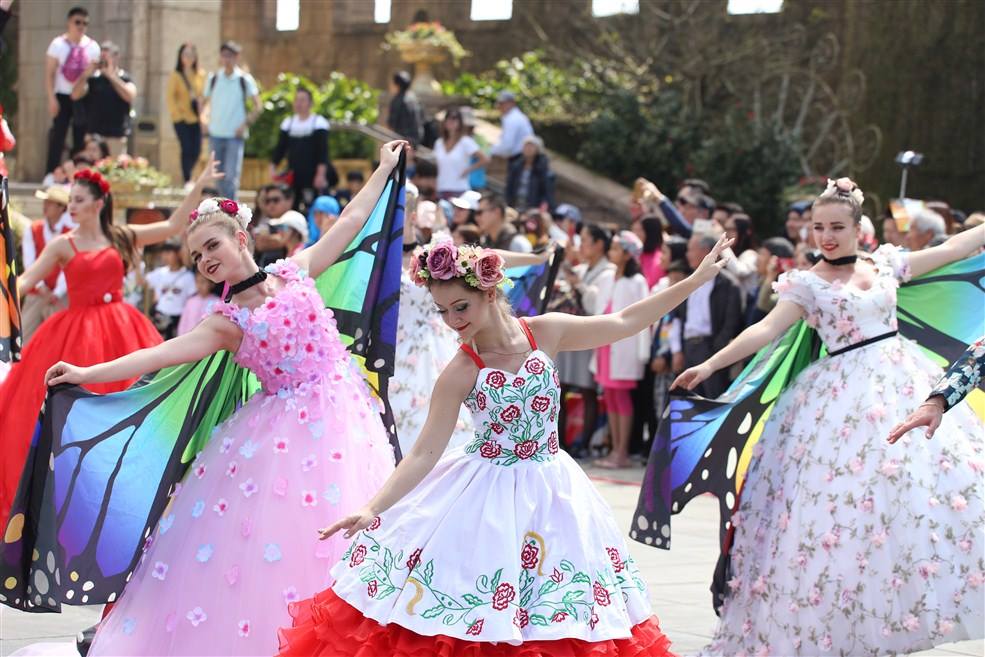 Halloween festival: 1/10/2018 – 31/10/2018
Enjoy the halloween atmosphere with many ghost characters, enjoy the ghostly performances. The famous Western Halloween festival now has a multi-tiered presence on the top of the Banahills
Place: Du Dome Square, French Village
Wine festival: 5/5/2018 – 20/5/2018
Enjoy free wine. Enjoy space of flowers. Festival activities, special performances…
Place: Le Jardin d'Amour
More detail and update activities in Ba Na Hill: Link
4. What to eat in Ba Na?
You can book a day trip tour to Ba Na Hills Da Nang Cooking Class. The staffs there will arrange for picking you at Danang city center or at your hotels as your request. Lunch buffet with more than 30 dishes included 
Price: 45 USD/ 1 pax.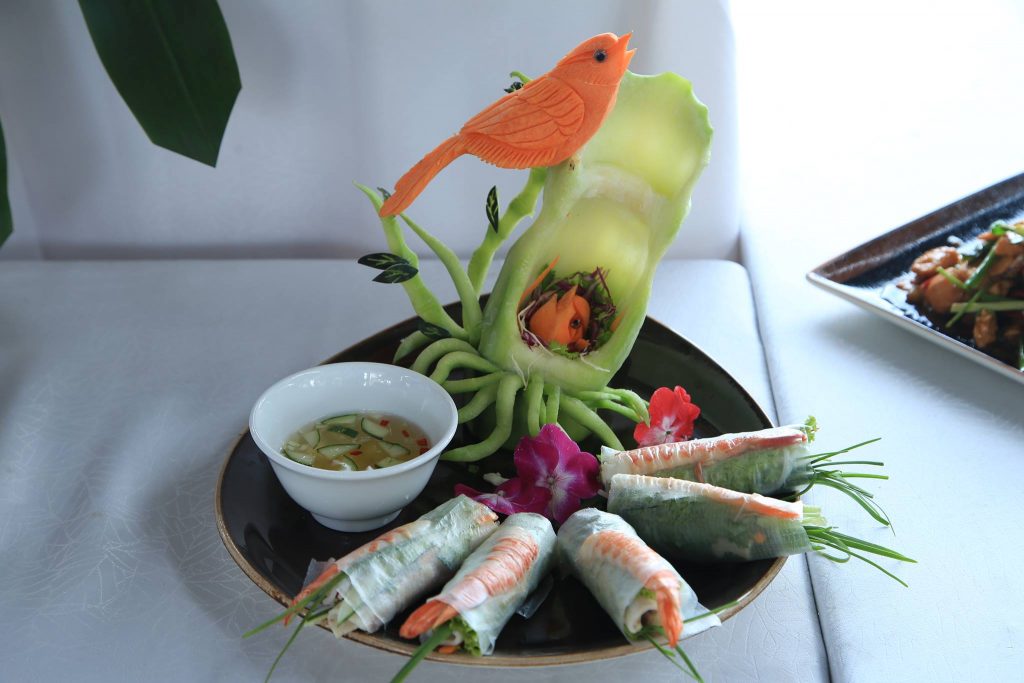 There are three options for you to choose:
Buffet: With 205,000 vnd per adult and 90,000 vnd for a child, you can enjoy a buffet with 30 different dishes at Morin restaurant. Although the restaurant offers not many dishes, it is large and known for its clean and tasty food. This is the simplest way to have meals while traveling in Ba Na Hills because there's no need to prepare anything for eating in advance while the food can meet everyone's demand. Open time: 11.00 AM – 1.30 PM
Bring food with you and eat at resting areas or eating areas in different destinations. You can save more money for your journey thanks to these meals though it may make your bag bigger.
Eat in restaurants with seasonal menus. It is quite expensive to eat at these restaurants because there are not regu
*List of restaurants in Ba Na Hills:
–Hoi An restaurant: serves local dishes including noodles, steam rice with meat and vegetables.
-Doumer Restaurant: serves fast food, fruits, and beverages.
-Morin Restaurant: serves local dishes, Asian and European dish menu (price is from 180,000 vnd), combo dish costs 160,000 vnd.
-Beer The Du Dôme: serves rustic food such as buffalo meat, gadwall, BBQ and grilled beef, fresh German beer, Ha Noi beer.
-Kavkaz restaurant: serves grilled dishes of Kavkaz (Russia), grilled sheep, grilled ribs, Russian salad.
-Buffet Club restaurant: serves a buffet of dishes in three regions in Vietnam (the north, the center, and the south), the menu includes 68 dishes, 180,000 vnd each pax.
-Buffet Vista restaurant (Russia): serves special dishes of Kavkaz (Russia), 250,000 vnd each pax.
-La Lavande restaurant: serves buffet, 225,000 vnd each pax.
-Le Jardin restaurant: serves buffet, 250,000 vnd each pax.
-Brasserie restaurant: serves Italian dishes
-La Pensee restaurant: serves convenient combos, same price at 160,000 vnd.
-Le Terroir restaurant: heaven of French pastries.
-La Crique & amp Café Postal restaurant: serves European buffet for lunch and dinner, 250,000 vnd each pax.
-L'Etable restaurant: serves traditional Vietnamese food and Asian dishes.
An interesting youtube video for you to have an overview of Ba Na hills with all activities offered here: Link 
Travel Tips to know before you travel to Ba Na Hills:
You should bring food and drinks with you to save more money because food and beverages here are very expensive as well as few of choices are offered.

Take plenty of cash as there are no ATMs or credit card facilities.
It is very cooling over in Ba Na Hills as it is high ups in the mountains. Bring thin jacket.
Take a map so you can explore easily

Cable car transport between station 1 and station 2 is free. So you should notice departure time of this transit (7:30 am) and when the last cable car stops working (21:00 pm).

In the daytime, it may be sunny in Ba Na Hills. However, it may turn very cold at night. So if you want to stay here overnight, bring with you a thick jacket. Hotels' check-in time is after 2 pm and check-out time is 11 am. So you should mind the time so that you don't have to wait too long for a hotel room.

High heels are not positively recommended for a trip to Ba Na Hills because this tourist destination is very large and will take you a long time to discover all corners of it. Sneakers and flat, soft sandals are best choices of the day.

You can book a day trip tour to Ba Na Hills Da Nang Cooking Class. The staffs there will arrange for picking you at Danang city center or at your hotels as your request. Price: 45 USD/ 1 pax.
What else to do in Da Nang? Visit Best 24 things to do in Da Nang 
What a bad luck if it is a rainy day and you can't visit Son Tra Peninsula. No worry! Let's do these activities 11 things to do in rainy days in Da Nang
If you love Vietnamese food, don't miss our Da Nang Home Cooking class: 39 USD/ 1 pax. Money back guarantee