Son Tra Peninsula Day Trip
Son Tra Peninsula Day Trip
Getting curious with the giant white statue that we saw from the beach, my friend and I decided to visit it. That white statue is actually a female Buddha statue that people named it Lady Buddha. The Lady Buddha statue is located on Son Tra Peninsula which is considered "a gem" of Da Nang tourism, with beautiful winding roads around and the diverse flora and fauna. There are many ways to go there, but we selected the most interesting way – riding a scooter. We could not be happier with what we did. So, I would like to share my experience with you guys.
1. How we get there – Renting a motorbike for our Son Tra Peninsula Day Trip
Asking help from our lovely receptionist, we got a scooter for 5 usd and 2.5 usd for a full fuel tank already in it, so we won't be confused to find a fuel station or get difficulty on communicating to locals.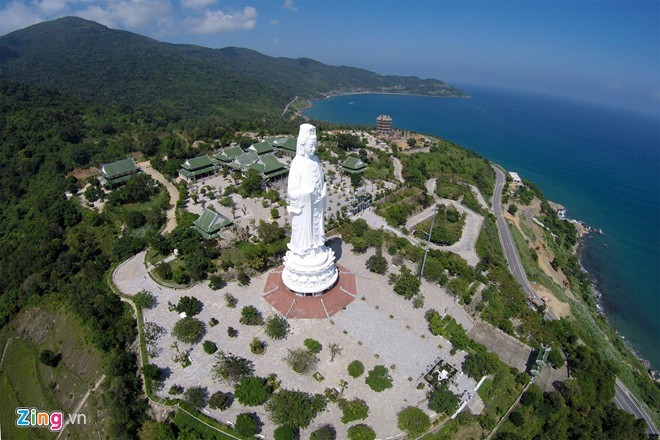 2. The way to Lady Buddha – Son Tra Peninsula Day Trip
The way to the statue is pretty easy. You just need to go to My Khe beach, then turn left and keep riding for 4 to 5 km (when you see a beautiful pagoda on the left side and some seafood restaurant). Then there is a roundabout, you can take quick stop on the right side for taking photos with local fishing boats, especially the basket shaped boat.
Then you just ride straight to the mountain, keep riding around 1.5 to 2km , when you can see a pair of the marble lion (look like), just turn left to that road. Remember that this bench is quite dangerous with the cars and motorbikes around, so you need to make sure everything is safe while you doing that. They have 2 parking lots, one in the middle of the road and you need to climbing up and one on the top of the road. I recommend the lower parking place for the riding beginner and the upper parking place for the good rider with some challenge benches. After receiving the parking ticket, we got told by some nice Vietnamese friends that you just pay how much you want for parking.
3. Best time to visit – Son Tra Peninsula Day Trip
We made a right decision to go there in the morning (around 08.00), when not many tourists coming, and the temperature is still nice. How spectacular it is to enjoy the view back to Da Nang city from the Statue's square.  If you can get up early, 6.00 am is the best idea to enjoy sunrise.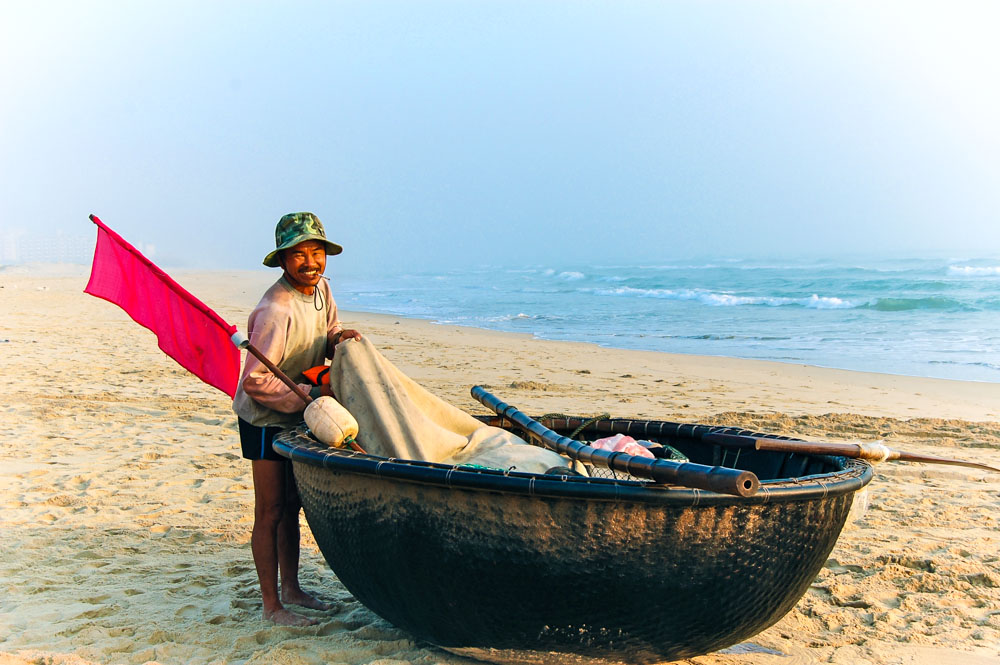 4. Awareness – Son Tra Peninsula Day Trip
– The only thing you should aware is the photographers. They will capture you without your permission and then try to ask you to buy those photos. The beverage vendors in that square are quite nice with reasonable price for our ice cream and water, cool!
– You should take your shoes and hat off to come in the pagoda. Furthermore, you can walk around and see many beautiful statues, lotus pond, a copy of Jade Buddha Statues and other lovely places. It is absolutely worth for our 30 mins of riding bike!
5. Visit Son Tra mountain – Son Tra Peninsula Day Trip
Following advice of our beloved receptionist, we continue riding along the Peninsular, where you can feel the breezes from ocean, spectacular view of the mountain and windy benches, and the quiet traffic. What's a paradise for motorbike riders!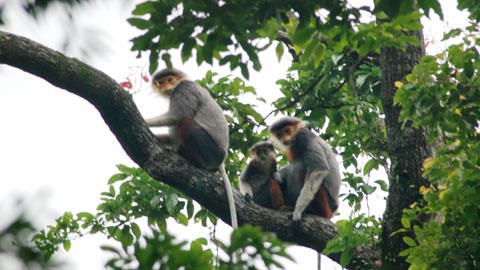 We make a stop at the monkey statues, where you can have a nice place for snapping the view of this scenery place. We could go further around the peninsular, but we decided not, coz our scooter wasn't look reliable for it. I recommend you guys get some reliable bikes, dirt bike will be the best for exploring this terrific place.
6. Try Seafood – Son Tra Peninsula Day Trip
Going back, we made a stop at Beo Seafood Restaurant, a local restaurant with a less tourist price. You can select the fresh seafood and ask them how to make it. Their English is quite bad, but with body language everything is ok. We got a wonderful meal for 2 people, grilled shrimp, stingray with fried shallot that you wrap in rice paper and veggie, and hot pot for 15usd. Could not be better.
Which restaurants should you go to? Check out Top 10 local Da Nang seafood restaurants
When you be back, be careful with the cars and bikes from the seafood restaurants that suddenly come out.
What if you don't like/can't eat seafood? Try Must Eat Food in Da Nang
Our riding was ended in a safe and sound way, with unforgettable memories.
To sum up, I highly recommend you to visit Son Tra Peninsula including Lady Buddha to get away from the city side and discover more about the nature with the fresh air and cool wind. Happy travel!
What else to do in Da Nang? Visit Best 24 things to do in Da Nang 
What a bad luck if it is a rainy day and you can't visit Son Tra Peninsula. No worry! Let's do these activities 11 things to do in rainy days in Da Nang